You can add an address to an apprentice's account by following along here:
1. Go to the Apprentices tab on the left hand sidebar and select which apprentice you'd like to add an address for:

2. Select the pencil icon below their name to edit.
3. Scroll down and click Addresses.
4. Click the +Address button
5. Add the apprentice's address either through search (image 2) or by entering it manually (image 3) and click Save.

6. The newly entered address will appear under the Address section. From here you can add another address, mark it as primary or delete the address.
7. Select the arrow button to go back to the main menu. (The address section will now show that an address is on file.)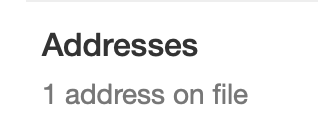 8. Click Save again to save your changes.